It not always important that every co-worker has a friendly relationship. Some of them just can't get along no matter how much one tries. So here is a list of actors who didn't share the same chemistry with their co-stars as they did on screen.
Ariana Grande & Victoria Justice
Victorious was a surely a great hit for Nickelodeon but the feud between
Tori & Cat, the 2 "best friends" is not hidden in real life. The online fight between the 2 stars began after the tweet by Ariana following the cancellation of the 4th season of the show, "Sweetheart the only reason Victorious ended is that 1 girl didn't want to do it. She chose to do a solo tour instead of a cast tour. If we had done a cast tour Nickelodeon would have ordered another season of Victorious while Sam and Cat filmed simultaneously but she chose otherwise. I'm sick of this bs."
In return, Vitoria Justice tweeted,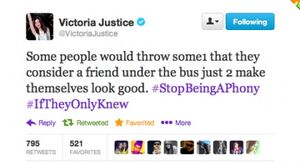 Ryan Gosling & Rachel McAdams

After the film "The Notebook", Ryan and Rachel were seen having an on and off relationship for about 4 years, not during the filming though. The off-screen chemistry was just opposite to that on-screen while they both were working together for the film. In fact, Ryan also asked the film crew to find a substitute for the role of McAdams.
Claire Danes & Leonardo DiCaprio
Even though the on-screen chemistry of this Romeo and Juliet took all of our hearts away but things were not that well off screen. Claire Danes often termed DiCaprio as 'immature' even though he was 7 years older than her. Looks like things didn't go that well with them.

Jamie Dornan & Dakota Johnson

After seeing all that sizzling scenes by Jamie Dornan & Dakota Johnson in Fifty Shades of Grey and other parts, it is quite difficult to gulp this fact. But the story says that most of the scenes of the movie had to be reshoot again and again because the actors had very less amount of chemistry.
Shia LaBeouf & Tom Hardy
Shia LaBeouf and Tom Hardy came into feud while shooting for the film Lawless in 2012. In an interview, Hardly quoted, "I got knocked out by Shia LaBeouf, actually,". Though Shia said that it was nothing just an action of their brotherly love but who knows what happened in reality. But they do get themselves badly into an off-screen feud.
Sarah Jessica Parker & Kim Cattrall
Yeah, the 2 "best friends" who had ultimate chemistry on-screen actually turned out to be not even friends off-screen. They got into an off-screen feud. The feud started when Kim Cattrall got to know about the Sarah Jessica Parker making way lot of numbers that what others were getting. Also, SJP was not comfortable with the fact that Cattrall's character Samantha was getting so much attention.
Blake Lively & Leighton Meester
Blake Lively & Leighton Meester were shining stars when they came up as "best friends" for around six seasons in Gossip Girl yet things were not that good between them. They got into an off-screen feud. Rumors say that because Blake didn't congratulate with on her engagement.