Going out to have a good brunch but with a severe food allergy is really risky. Now that you no zero ideas about the place, you are left with no option but to trust strangers who prepare your food. And the worst part is you can't even cross check it. The situation is way scarier than it sounds. You just don't know what to expect.
You face such situation when you go out to eat with your friends or family. The condition becomes even worse when you are travelling in some other country which is 1000 of kilometres far away from your native place. You don't know their language that well, the place is new for you, how will you ask for your ideal food there?
Don't worry, there are many apps which are made especially to serve you in such situations. Some will notify you about the gluten-free food items that you can carry very easily while going on a trip (also when you are at your home). Just a simple touch and you'll be flooded with all the information you need regarding the gluten-free food at your fingertips.
Of course, you can Google these things too but why put extra efforts when these apps have got your back.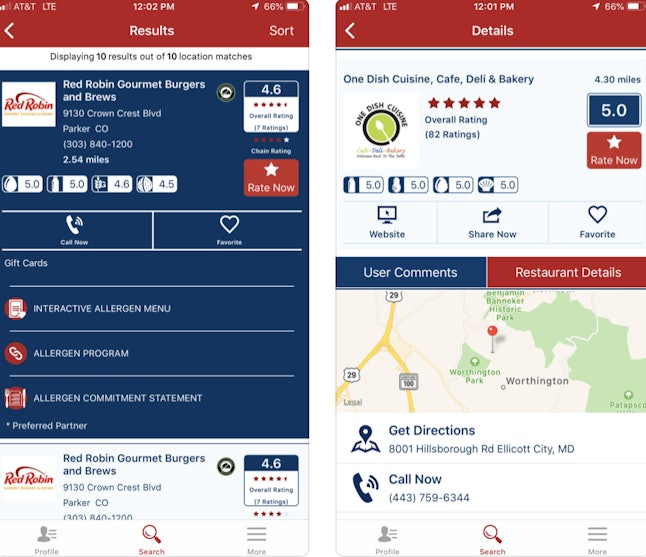 Allergy Eats
Available on iTunes and Google Play
This app not just provides you with information about gluten-free food but also includes other types of allergies. You can easily access this account and also read reviews/ comments of real people who went to the restaurants using the app. Read their experience and find the one which suits your choice the most. Not just that, you can manually enter any location in The United States and the app will give you all the information regarding the outlets.
So, sit back, take your time and book table at your favourite restaurant.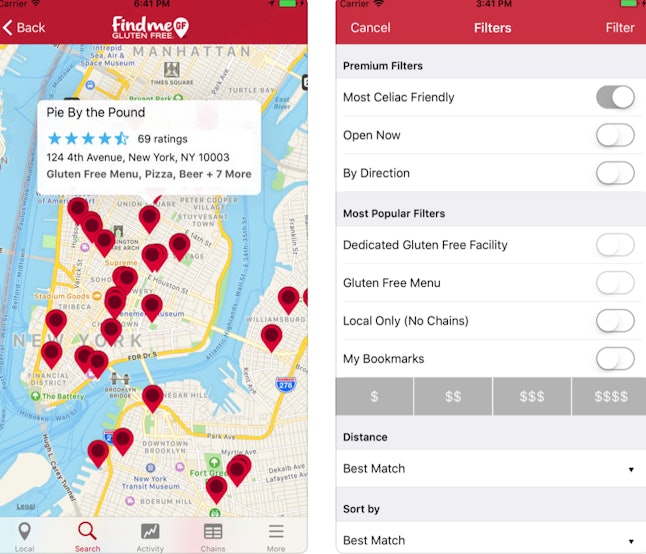 Find Me Gluten Free
Available on iTunes and Google Play
Suppose you go into a restraint hoping that you'll find plenty of dishes suiting your condition. But then you had to come back because the food was not gluten-free. Instead of straightway going to the restaurant and assuming that their food will suit you, you can use this app to find 'the one' for you.
The apps will give you the details of those food outlets and restaurants that for sure provide GF food. And not just the name, but you'll be given exact address and phone number too.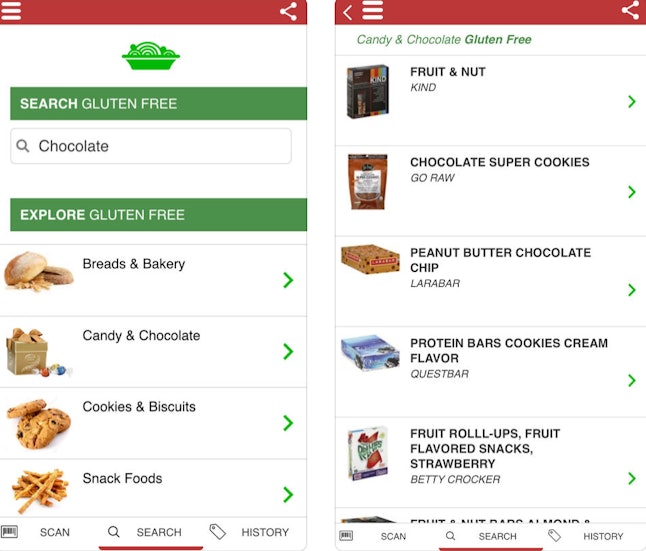 Gluten- Free Scanner
Available on iTunes and Google Play
Shopping just makes you go crazy. There are ample of things present in supermarkets you just don't know what is GF and what isn't. You cannot just stand there and read the entire ingredients section of each and every food you take right? Gluten- Free scanner is the ultimate saviour for you here. All you have to do is just scan the product using your phone and let the app do all the other work.
The app will tell you whether the product has gluten essence in it or not.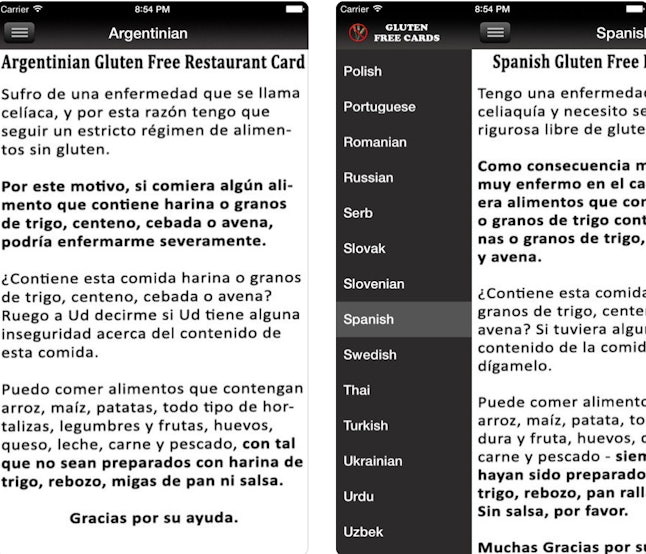 Gluten- Free Restaurant Cards
Available on iTunes and Google Play
While you are travelling in a new county the major problem that you deal with is the deficient knowledge of the language. This problem often ends up creating a lot of confusion and miscommunication. But this app is a perfect saviour for you. This app provides you with a huge list of restaurant cars, along with real images to help you. More than 40 different languages can be accessed used this app. So, next time when you are travelling just show the dish name to your chef or helper and you are all sorted.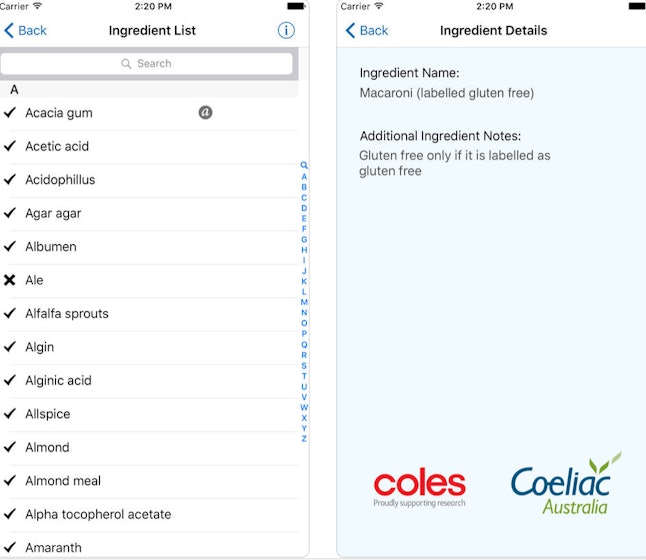 Coeliac Australia
Available on iTunes and Google Play
Have you ever gone to Australia or New Zealand on a trip but end up spoiling it because of the wrong consumption of food? This usually happens to many tourists.
In order to solve this problem, Coeliac Australia app is the best option. The app tells you all the ingredients that are gluten-free and safe for your consumption in Australia. The app is very convenient and easy to use. Also, it will tell you the name of so many GF that are unheard to you even at this age.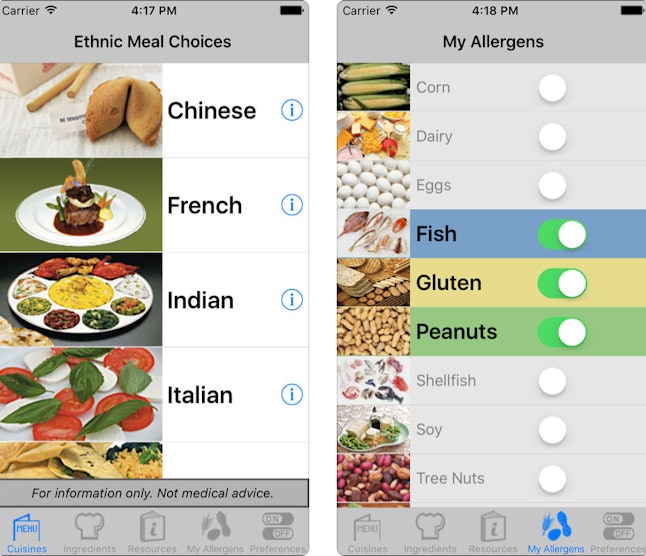 iEatOut Gluten & Allergen Free
Available on iTunes
Android users have to wait a bit in order to enjoy this app. But for those who have iTunes should not waste even a single minute but download it. The app helps you in customizing the allergy part. It allows you to choose between end numbers of allergic reactions.